Bears eke out a victory in Boulder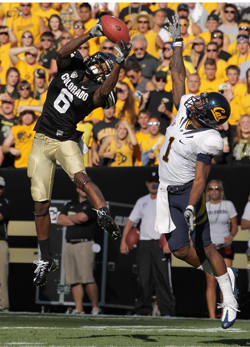 When a facemask penalty put the Bears in a first-and-30 situation from the 35, Maynard found Allen over double coverage at the three-yard line for a first down. After scrambling for a loss of two, Maynard again found his little brother on a rainbow cross-field pass to the back right corner of the end zone for the winning score, as Cal came out on top, 36-33.
"I was thinking the same thing. I'd seen that DB's tight alignment, I put it up, and I was like, 'Aw, Keenan, c'mon, that's you, baby,'" Maynard said. "I threw it up for him, and he got the ball."
Out of Colorado's six third-down conversions on 17 attempts, three came on passes to Richardson. Of the Buffaloes' 25 first downs -- out-pacing Cal's 22 -- Richardson accounted for nine.
The man slinging the ball to Richardson -- senior quarterback Hansen -- set the school record for passing yards, going 28-of-49 for 474 yards and three touchdowns.
"I'd rather have the win," Hansen said. "I'd be OK throwing 20 yards and getting a W. It feels good getting the passing game going, [but] we got to get the running game going. We've got to get those guys up front to pull the ball. It seemed like we didn't get the running game going until overtime.
Though the Buffaloes didn't rush for much -- only 108 on the afternoon -- the young Colorado offensive line gave Hansen plenty of time to find receivers. Hansen didn't take a single sack, as the Bears defensive line failed to get much pressure at all on the Buffaloes signal-caller.
"You know, he's very good getting out of the pocket, and they were very good at throwing to the back out of the backfield, which neutralized some of the pressures that maybe we normally would have liked to have run," said Pendergast. But he's a good player and we knew the three guys that we had to take care of were five, nine, and six, and obviously, they all had big days.
Cal registered no sacks and just four tackles for loss the entire day.
"Yeah, the better pressure -- you know, we didn't want to come into this game with a lot of different pressures just because of the nature of their playmakers, and you know, they did a nice job," Pendergast said.

"That back's a good back," Tedford said. "He's a slippery guy and he's hard to bring down, which Trevor did a nice job of defending the block there and hitting him in the backfield and not letting him get started."
All in all, the Bears' vaunted defense was very average on Saturday, allowing Richardson, Hansen and the Buffaloes to post 582 yards of total offense. The same Cal defense that paced the Pac-10 in passing defense last season surrendered seven passing plays of 20 yards or more, including four of over 30 yards.
"We let some big plays get away on us, but they held strong when it counted and held them to a field goal at the end. That's what it comes down to," Tedford said.
Just a hair outside the red zone on first-and-10 at the Colorado 21, Maynard lateralled to Allen, who found Big Bro for 27 yards. At the end of the play, though, Maynard lost the ball, but recovered his own fumble, while the Buffaloes drew a roughing the passer penalty on Allen, adding an extra four yards.
On Cal's next possession, though, Tavecchio redeemed himself, hammering home a second-quarter 39-yard field goal try. Though Tavecchio sent four of his six kickoffs into the end zone for touchbacks and made the rest of his PAT attempts, the big kicking star of the day was Colorado's freshman leg in 5-foot-10, 195-pound Oliver, who responded to the Bears' score with a 52-yard field goal of his own, setting the school record for longest field goal by a freshman.
Despite the score, though, the game was far from in control.
Stewart caught five passes for 65 yards and rushed 12 times for 42 yards in the first half alone, while Richardson caught five balls for 96 yards -- again, all in the first half, as the Buffaloes out-gained the Bears to the tune of 240 offensive yards to 204.
"I just knew I had to get in there," Miller smiled. "He wasn't that heavy."
"Over the week we talked about his playmaking ability and trying to come out and limit what he actually did," said Anthony. "You gotta' give credit when credit is due. The guy was good. He came out and made big plays, and that's what we tried to limit, but you know, he was in the right place at the right time, and we couldn't stop it.
It wasn't until late in the game -- after the two big touchdowns -- that Pendergast began to apply double-coverage to the dynamic Richardson.
"We actually did," Pendergast said. "We actually did in the second half. We doubled him a good bit, not so much on the long touchdown he had, but some other instances. We had a safety over the top and a corner underneath him, you know, probably a handful of times. Because we obviously knew that's where they were going to go with the football. He still made some plays and the quarterback made some throws."
If it weren't for Anderson, the Bears may very well have dropped their second straight contest in the state of Colorado. After Calvin hauled in a 27-yard pass with an acrobatic grab on third-and-10 from the Cal 45, Sofele ground out nine yards on two carries before the Bears once again turned to Anderson.
"I was patiently waiting for my number to be called, and when it's called, I've got to make plays," Anderson said. "That's what they expect, and that's what I did."
On third-and-one at the Colorado 19, Anderson blasted through the middle and shrugging off contact, finding paydirt for the first time in his Cal career.
"The linebackers blitzed, took both the A and B gaps, and I just cut back on the flow, exploded and used my abilities," Anderson said. "You've got to run through that [contact]. Coach G [Ron Gould] always talks about keeping our pad level down and running through arm tackles, so we practice that drill every day. It's like running through the chutes."
Anderson said that the play he scored on was called 'Jazz,' or, as he puts it "smooth jazz."
"It's an inside zone play," he smiled. "Like smooth jazz, inside zone play, read my read, knew my keys and just cut back and scored. I hope I get to run it a lot. It's my favorite play. I ran it a lot at Laney, and coming up here, the offense is similar, so it's great."
While he was in, Anderson also saved Maynard's bacon several times with solid pass blocking.
"He's a great running back," Maynard said of Anderson, who gained 33 yards on four carries. "He's low, he's level, strong and balanced. He scored and that gave us a lot of momentum."
A nearly seven-minute Colorado drive resulted in a 32-yard field goal by Oliver to tie things up, sending the game into overtime.
"I saw that," Tedford smiled afterwards. "They ran inside and he slanted inside and made some big plays in there."
After Oliver nailed a 22-yard field goal, the Bears looked to be rolling again, as Sofele rushed for a yard and Maynard found Jones over the middle for eight more. A one-yard rumble from Anderson up the middle gave Cal a fresh set of downs at the Colorado 15.
"I just want to do whatever I can to help the team," Anderson said. "We get a running back test, and coach Gould asked me what my goal was for the day. I just told him that -- team goal -- I want to get the W, and personal goal, I want to do anything to help my team win.
On first-and-30, Maynard found his little brother in double-coverage over the left side with a thread-the-needle zinger at the three-yard line.
"Oh yeah, me and Marv, we just had a switch, a switch release and we seen cover two, so Zach put it over the corner, and I just made a play on the ball," Allen said. "I ran a corner route."
After Maynard lost two yards on a scramble, he hooked up with Allen for the fifth time on the day, connecting on a fade route from the inside.
"I didn't know it was going to be a score, but I knew I was going to have a chance to score and Zach gave me a good ball, so I made a play on it," Allen said of Maynard's rainbow pass to the back right corner of the end zone. "He told me in the locker room [that] he'd seen the coverage and he seen he was inside of me and I had the outside route so he just gave me a chance."