Bear Essentials: Patrick Mekari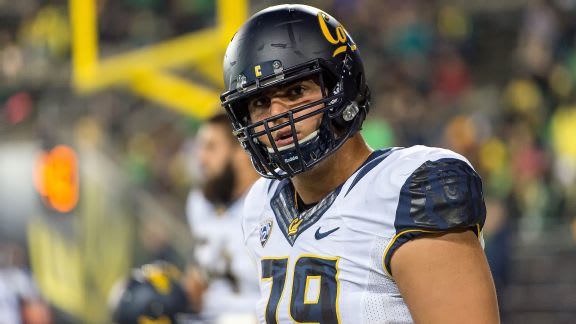 Today, we start a series taking a look at players who are going to be key in Cal's potential success in 2017. This time, we look at the presumptive starter at left tackle. Patrick Mekari.
How He Got Here:
Mekari, the younger brother of Tony (class of 2013), came in as a relatively late addition to the 2015 class, a two star offensive lineman out of Westlake Village who had little fanfare coming into the program.
Accomplishments
In his two years, Mekari has played in fourteen games with four starts, all of those starts coming in 2016. He played in six games as a reserve as a true freshman in 2015. The younger Mekari started two games in place of Aaron Cochran a year ago at left tackle, while also subbing in for Chris Borrayo at left guard against Washington, and for Steven Moore at right tackle against UCLA. Dubbed as the 6th best lineman and a versatile player that played at every offensive line position a year ago, Mekari became the primary backup for almost every position except center.
After the loss of Dwayne Wallace from the team, Mekari became the second most experienced offensive lineman projected to be a starter, behind center Addison Ooms
Now:
With the transfer of starter Cochran to Oklahoma State, Mekari looked to be the starter entering spring ball, and that's where he sits with fall camp set to start at the end of the month. There was a brief period where Mekari was at right guard during fall camp, but he's moved back to his most effective position, as offensive line coach Steve Greatwood made an effort to move every lineman around to teach all the positions if injury ever occurs.
Why He's Important:
Mekari will get the opportunity to be a full-time starter at left tackle, protecting the blindside of whichever of Ross Bowers or Chase Forrest starts. He was listed as the second most efficient tackle by PFF College among returning Pac-12 tackles.
During practices last fall, Mekari showed some of the best footwork on the offensive line, with great technique off his get-off. The Bears want to re-establish the run game, and Mekari's going to be a big piece of that. On the passing game front, Cal has a very young line, ranking third lowest in the country in returning starts, and keeping the heat off a first time starter is also important, because there's only so many quick passes the Bears are going to be able to throw.
The coaching staff has quite a bit of faith in Greatwood, who has proven himself multiple times over a long career, and in turn Greatwood has a measure of faith in Mekari at that left tackle spot. Things can change, as Greatwood noted that he'd like to experiment a little more with combinations on the line, but no matter where, Mekari is going to play a large role in the level of success this line group has in 2017.