Allen impresses on Day One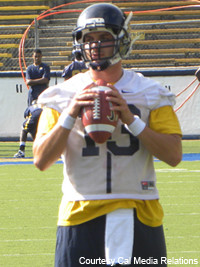 BERKELEY-It's the one day a year when the Cal football team's practice features not a single red jersey. That didn't last long.
"Will Kapp has a concussion," Tedford said. "He accidentally ran into someone on the field as they were doing their summer workouts. Usually Kapp doesn't get the worst end of that, though."
"Shane's fine, he has a tight hamstring, so we're resting his hamstring," Tedford said. "We'll see how it is tomorrow."
"We know what Shane can do, pretty much, and so that's one of the goals of camp, is to find who the backup tailback is, or who the group of backup tailbacks are going to be, because we never like one guy to carry the load," Tedford said. "You need some depth there, and so that's what we're really looking to do in camp."
Now that that's out of the way, it's time to get down to business. Tedford was practically glowing when he described the tone of the first practice of the 2010 season.
"You could tell that the guys really had a great summer, and there are some good, young recruits that are here for the first day," Tedford said. "It's really nice to see those guys run around a little bit. Our receiving corps, for a young group, you could tell they really have some ability, but it's going to be a process."
"He's a really good-looking player," Tedford said. "He can run, he has great range, he's physical, catches the ball very, very well. Him and Tevin (Carter), Kaelin (Clay), Coleman (Edmond), really have a lot of ability."
Edmond was particularly notable for his hard cuts and his change of direction during receiver drills as well as during 11-on-11s.
"Marvin's the same old Marvin," Tedford said of his No. 1 wideout. "You know what you're going to get with Marvin. He's very solid. The thing about Marvin, he's a great leader. He's taken these young guys under his wing and spending time with those guys. Even when Marvin's doing the scout team, when we're walking through things, he's coaching those guys up all the time, so he's a great leader."
The most notable difference from last season was the surety of the hand of the receivers, who seldom dropped passes and often hauled in difficult catches in traffic. Edmond, for his part, showed some remarkable leaping ability, making several snags over the heads of his defenders.
"It was everything we saw on film, really," Tedford said of the return ability of the new speedsters. "There's a lot of potential there, but, it's a long process. It's the first day, it's very basic. There's going to come a point when there's a little overload mentally, because that's what you fight, mainly. It's not so much the physical ability; it's now the learning curve to get the new guys in the loop."
"Kaufusi is doing things in practice," Tedford said. "He had the shoulder surgery back in spring, but he's doing some things in camp right now. We just have to bring him along and see how it goes. He's ahead of schedule."
Riley, for his part, looked as though he has been doing quite a bit of core work since spring camp, and has added a not inconsiderable amount of muscle during summer weight lifting. Having worked extensively during the summer with his new receivers, Riley showed a good rapport with even the freshmen during one-on-one drills.
"Consistency," said Tedford, on what he'd like to see out of Riley going into the season. "I think he's got a pretty good grip on the offense, so to put everything together and just be consistent."
A new addition to practice was a bit of musical accompaniment, and, no, it wasn't the dulcet tones of Jones and Allen. The Bears opened up practice rocking out to Drake's "Over," and there was nearly an uprising when the music was briefly turned down. The rock music was piped back up during the post-practice stretch, as well.
"During stretching, you know, when we're starting practice or finishing practice, stretching can get very monotonous," Tedford said. "The same stretches every day, things like that, so it's something to kind of spice it up, get us enthusiastic for practice and get a little energy. That's what that's about."
It was at the request of the players that Tedford added the music to the routine, though he's not the one in charge of the playlist.
"Sure, they do have some input. Players always have a voice. It's their team," he said. "They have a voice, but I still have all the votes."