A Run Through the Cal Roster: Numbers 22-11
Leading up to football season, we're going to go through Cal's roster as it stands at the moment, going backward from #99 all the way to #2, looking at where guys stand, either going into the rotation or otherwise.
Today continues with numbers 22 to 11.
Previous Incarnations: 99 to 89 | 88 to 77 | 76 to 65 | 64 to 53 | 50 to 41 | 40 to 31 | 30 to 23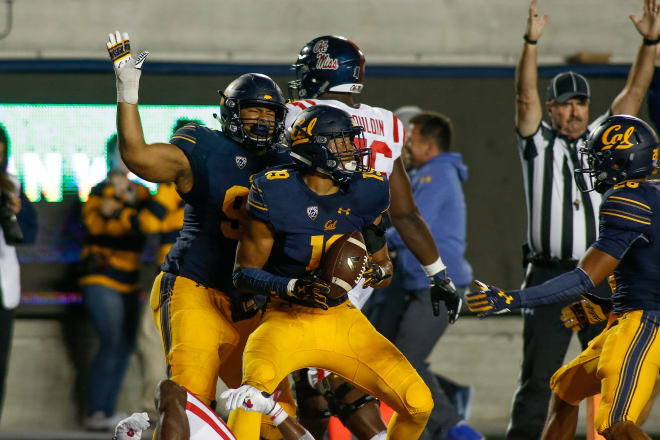 22 Traveon Beck
CB | 5'9" 160 lbs. | Junior | Paramount, CA
Likely Role in 2018: Backup in the defensive back rotation
Beck, who came in as one of the most enthusiastic players about Cal in the class of 2016, has some work to do to get back into the rotation, as someone who Gerald Alexander has said needs to put on weight. Beck, to his credit, has always played bigger than his size, and was a standout for a strong St. John Bosco team while he was in high school. Beck's future may be in the slot as the nickel corner going forward.
Career Stats: 20 games played, 27 tackles, 1.5 TFLs, 1 PBU
21 Evan Rambo
S | 6'4" 210 lbs. | Redshirt Junior | Los Angeles, CA
Likely Role in 2018: Working his way back into the safety rotation
Rambo's been beset by injury in his Cal career, with his 2016 season stopped in its tracks with an ACL tear, and then his 2017 season taken away as he wasn't able to fully heal up from the tear in time. Rambo's the rangy kind of safety that you want, with a massive frame at 6'4". He was also a member of the winning team during the spring edition of the Collider Cup, a competition in Cal's Entrepreneurship and Technology center. Rambo's team won through working with data examination from wearable tech.
Career Stats: 15 games played, 18 tackles, 2 PBUs, 1 INT
20 Josh Drayden
CB | 5'10 185 lbs. | Junior | DeSoto, TX
Likely Role in 2018: In the DB Rotation
Drayden got a solid handful of reps in the spring, playing with the first group before going down with an injury. Playing right away as a true freshman, Drayden has impressed with his understanding of slot coverage, culminating with an interception of Sam Darnold against USC last season. Drayden can play inside or out, as he started two games on the outside in 2016, and played on the outside for much of the spring.
Career Stats: 22 games played, 37 tackles, 5 PBUs, 3 QB hurries, 1 INT
19 Cameron Goode
OLB | 6'3" 225 lbs | Redshirt Sophomore | Spring, TX
Likely Role in 2018: Starting outside linebacker
Called by Tim DeRuyter the most consistent player in the front seven during the spring, Goode has turned a corner as far as size goes. While he was always a solid tackler, Goode now looks the part, getting up to around the 225 lb mark that you'd like to see at the Sam linebacker spot. Goode started nine games in 2017, most notably ending Ole Miss's chances to come back with a pick six to seal things. Goode has received a ton of praise for his play and development, as he's become one of the building blocks of the defense. You can even see the results in recruiting, as the Bears have targeted players like him, most notably recent commit Orin Patu. Goode has a chance to be great for the Bears in 2018 and beyond.
Career Stats: 9 games played, 46 tackles, 5.5 TFLs, 1.5 sacks, 4 PBUs, 1 INT, 1 Forced Fumble, 1 TD
17 Vic Wharton III
WR | 5'11" 190 lbs | Redshirt Senior | Spring Hill, TN
Likely Role in 2018: Starting wide receiver
Wharton broke out as a workhorse for this Cal team a year ago, leading the Bears in yards and receptions, as the Tennessee transfer stared 10 games, playing in all 12 in 2018. He's fast, with extra dad reflexes due to having two kids. He parlayed that speed into a monster performance against North Carolina in the opening game of 2017, effectively swinging the momentum of that contest with a 67-yard touchdown reception on a wheel route that brought the halftime score to 14-17. Wharton also had two more clutch catches during that game, a 17 yard deep out on a 3rd and 16, and a 41 yard catch and run on an RPO that gave the Bears an insurmountable lead. Wharton finished 2017 with 67 receptions, ranking 9th all-time in Cal's history for most reception in a season.
Career Stats (at Cal): 95 receptions, 1164 yards, 6 TDs; 1 passing TD
16 Chibuzo Nwokocha
CB | 6'1" 205 lbs. | Redshirt Senior | Elk Grove, CA
Likely Role in 2018: Working way into DB rotation
Nwokocha came to Cal as a walk-on, and played a ton in 2016 due to massive injuries in the defensive backfield, even getting a start against Washington. Nwokocha's biggest moment at Cal came in the 2016 home contest against Texas, intercepting Tyrone Swoopes and helping to set up a Vic Enwere TD.
Career Stats: 10 games played, 12 tackles, .5 TFLs, 2 PBUs, 1 Forced Fumble, 1 INT
16 Collin Moore
TE | 6'4 230 lbs. | Redshirt Freshman | Novato, CA
Likely Role in 2018: Scout team
Moore came in during the spring of 2017 as a greyshirt, coming off a career at local San Marin High School as a quarterback. Moore made the move to tight end due to need, and has been there since. While he hasn't had the ability to get on the field, Moore is one of the founding members of the Sports Business Group on Cal's campus, and along with Mike Saffell, has worked with Cal Athletics on fan experience. Moore's doing work with the Oakland A's as they look to build a new stadium in Oakland. Moore was also named Scout Team Player of the Year, Special Teams, last season.
14 Chase Forrest
QB | 6'2" 200 lbs. | Redshirt Senior | Santa Ana, CA
Likely Role in 2018: Backup QB
Forrest came in late in the 2014 cycle, as the Bears needed another quarterback, and has spent the past few years playing the backup role to Jared Goff, Davis Webb, and Ross Bowers. Forrest is in the QB competition for the fall, one that Bowers looks to win again, but Beau Baldwin has noted that Forrest came into the competition more prepared than ever. Forrest has been a solid teammate in that regard, always willing to help as he's set to move on from the program after this fall.
Career Stats: 15-28 for 215 yards, 1 TD, 1 INT; 5 carries for 5 yards
13 Russell Ude
OLB | 6'3" 255 lbs. | Redshirt Junior | Atlanta, GA
Likely Role in 2018: In OLB Rotation
Ude finally found his position in 20117, bouncing between defensive end and defensive tackle as the former four star struggled to find the field. 3-4 OLB, something that he played in high school, ended up being a fit for Ude, as he had a solid spring a year ago. He hasn't contributed much, with all of one tackle coming out of his seven games played in 2017, but he did earn honorable mention Pac-12 All-Academic team honors. Ude also had a solid spring game, providing a tackle for loss in the strong defensive effort.
Career Stats: 8 games played, 1 tackle, 2 QB hurries
11 Ray Hudson
TE | 6'3" 245 lbs. | Redshirt Senior | Pleasanton, CA
Likely Role in 2018: Starting tight end
Hudson is the team's resident old-timer, in his sixth year at Cal thanks to a broken foot suffered in the middle of fall camp a year ago. Hudson finally gets the chance to play the position Jeff Tedford recruited him for many moons ago, as he's the final Tedford recruit still on the roster. Hudson's going to be the starter at tight end, with the ability to split out or stay in and block on the line. His presence has been seen making a difference during the spring, as he draws attention on crossing routes. He's the kind intermediate threat and safety blanket Ross Bowers and company need.
Career Stats: 34 receptions, 429 yards, 3 TDs