3-2-1: Golden Bear Report Going Into January
From all of us at Cal Rivals, Golden Bear Report, or whatever you'd like to call it, we hope you've had a happy holiday season.
For now though, we're going into how Cal looks going into January, as the Bears are in the midst of a dead period, one that head coach Justin Wilcox wants to be playing during in the future, and to get there, Wilcox espoused the value of competition among the team going forward.
"Where we're at, we won five games," Wilcox noted during a talk with media after the early signing day press conference, "we didn't make it to a bowl game. That's not okay, so we have got to continue to improve. We've got to coach them better, we have to execute better, we have to play better individually, so competition will always drive that. Nobody is sacred in our program. I'm not, not one player, coach, or administrator. The team will always come before any of the individuals, so that's what's best for the team, to make it competitive."
Competition has been the goal for every position, and this year's Cal team saw the effects of guys who competed for spots, with standouts like Patrick Laird, Ashtyn Davis, Quentin Tartabull, Chris Palmer, and Kyle Wells all earning playing time among others. That fosters depth on the roster, something that the Bears needed this year with a large amount of season ending injuries striking them this past season.
In today's 3-2-1, we look at three things we know, two questions we have, and one bold prediction for the future.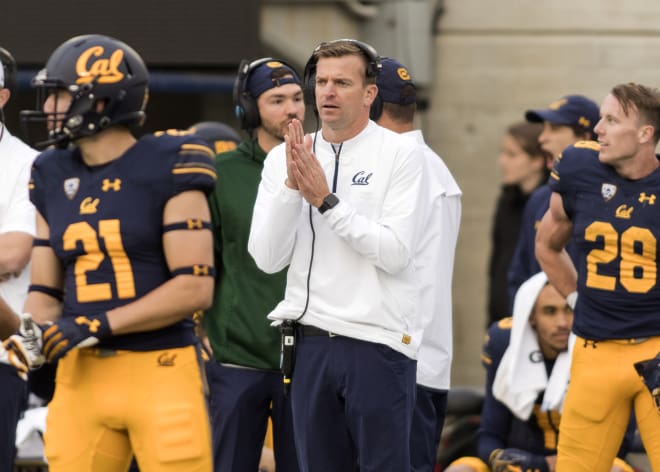 3 Things
The running back battle is more open due to transfers.
Two recent moves have opened up playing time at the running back spots. The first was Zion Echols noting his intent to transfer, the second was the news junior running back Billy McCrary III will be transferring, rumored to be to Abeline Christian back in his native Texas. McCrary, a former 3-star speedster from Leander, Texas, played in 10 games as a sophomore, running 6 times for 39 yards, along with adding 2 receptions for 3 yards in those appearances. McCrary moved around a bunch, from safety to running back after playing quarterback during his high school days. A season ending injury ended his junior campaign before it started, as McCrary was behind the main trio of Tre Watson, Vic Enwere, and Patrick Laird after spring ball.
What both of their departures mean is that there may be more time for newcomers Johnny Adams and Chris Brown Jr. in the early going for the Bears. With Enwere gone as well due to graduation, there's plenty of carries to compete for, and the two newcomers, along with a redshirt freshman in Biaggio Ali-Walsh, will compete to be the complement to Patrick Laird, likely alongside Tre Watson.
On Watson, Wilcox had this to say about his eligibility (also about Ray Hudson's):
"We will know more in January, it's really out of our hands at this point, really out of football from the beginning, there's NCAA, Pac-12, that type of thing, so we're waiting on that."
It seems likelier that Watson will get his 5th year, as opposed to Hudson getting a sixth year, and in that case that'll leave the Bears with six scholarship running backs, one less than they had this past year, as they look to reorganize their roster going forward. It also means that there'll be two more running back slots for 2019.
Five More Spots to Fill:
Cal has five more spots roughly in the 2018 class to fill, as the focus is on more front seven presence, another tight end, potentially another DB/WR, and possibly another QB. Guys that they're interested in who haven't signed, for example,DE Casey Rogers, DL Christian Jones (SMU commit), LB Chris Fatilua, LB Salua Masina, DB DJ Brown (Virginia commit), TE Camren McDonald, DL Elijah Wade, and OLB Joey Ogunbanjo (Baylor commit), are among the names the Bears are looking at to complete their 2018 group.
Flexibility and Recruiting in Remaining Hires:
Wilcox noted during the post-signing day media talk that they'd be targeting the first week of January to announce their hires, one on defense, one on offense.
"We're gonna have a position on defense, then the 10th assistant position, which will be live," Wilcox said, "so to speak, the 10th of January give or take. Early January we'll have an announcement on each of those positions. The one on defense, there's a couple different avenues we can go, and on offense same, so we've got a really good pool of candidates, and we'll probably make, first week of January or so news on that."
When asked about a recruiting focus for the final two assistants, Wilcox had this to say:
"There's always going to be the element of recruiting ability. The dynamics of the staff play into that, who's here now, who are we bringing in, what position. I would say that recruiting will have a major role of the guys coming in, not that it isn't for everybody, but we've got to have demonstrated ability to recruit in the next two positions."
There's going to be some flexibility, something that Wilcox likes to empahsize, but the final two hires will be a DL/OLB coach to complement Tony Tuioti, while the 10th will most likely be an RB coach. Signee Nick Alftin noted that he was told there'd be some flexibility in which position Tuioti coaches next year, and while it's likelier that Tuioti coaches the defensive line (where he coached at Hawaii for a number of years), having versatility there going forward is luxury for Wilcox in their hiring going forward.
Two Questions:
Quarterback
Cal doesn't currently have a QB in the 2018 class, as JT Shrout and the Bears went their separate ways, and Zach Wilson decided to sign early with BYU with the Bears not getting a chance for him to visit. Where do the go from here at QB in the class?
It's a possibility that they don't sign a guy in 2018, which makes 2019 QB recruiting all the more vital, with Hank Bachmeier being the top target in that group.
Right now though, there's another QB competition on the horizon, with Wilcox noting that Ross Bowers has to improve going into next season.
"Ross did some good things this season," Wilcox said, "and I think he got better and better throughout the year. We've still got to get better, Ross has to get better, it's going to be competitive in spring, and there's some guys on the roster, we're excited to see what they can do. It's not lost on the growth that Ross has made, but we've still got to continue to grow at that position, and it'll be very competitive."
One note is that Brandon McIlwain will be practicing with football during the spring, as he's ineligible for baseball this spring. McIlwain presents a true dual-threat option, and he was seen multiple times being the last one off the field at practices this year, throwing to Jeremiah Hawkins, Ben Moos and Colin Moore among othersas they worked on routes. McIlwain will play into the QB position going forward.
Direction of the Walk-On Program
Cal landed a preferred walk-on in Berkeley product Parker Bosche, a 6'4", 235 lb, OLB type. Something that Wisconsin does, where Wilcox came from beforehand, is a strong walk-on program, with players around the state coming in and making an impact. Cal has had some talented walk-ons these past few years, with Stephen Anderson, Chad Hansen, Patrick Laird, Malik McMorris and Addison Ooms making an impact for the Bears in recent years. Bosche is the second PWO from the Bay Area, joining Marin Catholic WR Ben Skinner (6'2", 195), and in forming relationships with coaches around the area, it appears it's something that the Bears want to take on going forward.
Bold Prediction:
Admittedly, it's hard to boldly state anything about the football team when many of the coaches, players, and members of the support staff are out on vacation, and it's not at all bold to say that Cal will be somewhere in the low to mid-30s in team recruiting rankings by the time the 2019 class is done.
That being said, it's likely the Bears are not done with roster shuffling. More attrition on the roster will happen so that they can bring on 23 scholarship recruits, it's just a question of who.