2018 SG Matt Bradley Commits to Cal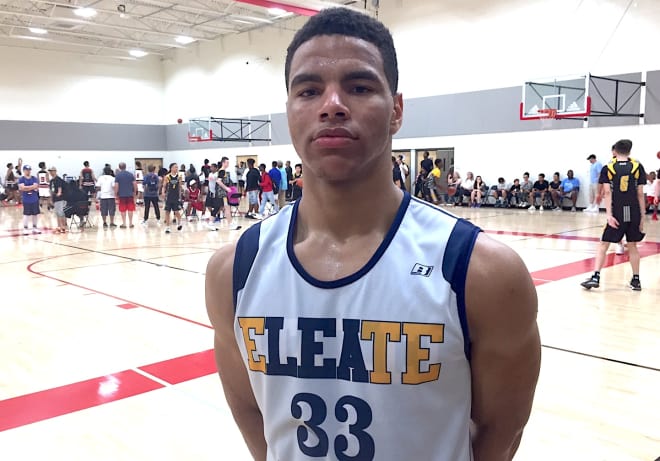 Everything is coming up Millhouse for Wyking Jones over the past couple of days, as the Bears scored a hard-nosed four star SG in Matt Bradley, from San Bernadino but set to play his senior year at the Wasatch Academy in Utah. Bradley received his offer from the Bears yesterday, and decided that it wasn't worth waiting. Bradley confirmed his commitment with GoldenBearReport.com's Ben Parker.
Bradley joins Jacobi Gordon in the 2018 class for the Bears, and he received his offer after making noise against a juggernaut Compton Magic squad during their Memorial Day event. He stood out, driving, making jumpers, and generally abusing defenders to the point where Rivals National Analyst Eric Bossi called him the "most under recruited player in 2018." Bossi also compared his game to former 49er and Raider safety Ronnie Lott in its tenacity.
A lefty scorer at 6'4" and 200 lbs, Bradley had this to say about his game in an interview with GoldenBearReport.com last night:
"My toughness. I feel my like my toughness, that gives me a good edge over other players. I just want to win. Good win, bad win, I just want to win. I can guard multiple positions, I can facilitate well, I'm really versatile. I'm handling the ball much more. If a big guy is guarding me, I'll take him to the rim. Defensively, I feel I have long enough arms and good enough speed to get in front of the passing lanes. I feel like I'm playing as a power guard. Not a primary point guard. A power guard. However you describe that, that's what I am. I'm improving my handle and can play 1-3."
Bradley's addition gives the Bears even more at the guard spots in 2018, with Gordon and Boise State transfer Paris Austin coming in then as well, joining 2017 recruits Deschon Winston, Austin McCullough, Juhwan-Harris Dyson, and Justice Sueing on the perimeter, along with holdovers Don Coleman and Brandon Chauca.
Bradley, ranked 81st nationally by Rivals, noted that he'd been in contact with head coach Wyking Jones over the past year or two, after receiving the offer, and hinted that his final decision would be an academic one.
"That's what I'm looking forward to," Bradley said about his academics,"Ivy league is on me right now. This isn't a four year plan, this is a 30 year plan. I'm using basketball as a tool to get the degree, so I care academically. Academics is a big part to me, no question. I have a 3.5 GPA and a 1270 SAT, so I take it pretty seriously."
Bradley also put up 72 points in a high school game in January.
This continues the momentum started by the pickup of Gordon yesterday, and represents some fantastic news for a coaching tenure that started off slow.