Spotlight: Cal Football Alumni Pitching Their Company on Shark Tank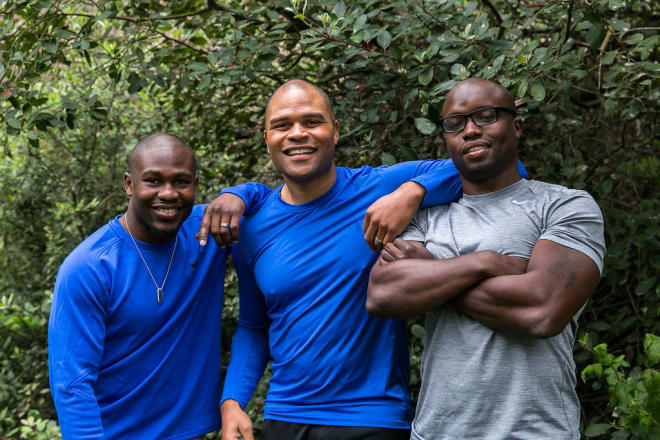 Former Cal running back Justin Forsett's work ethic is well known. You don't play nine years in the NFL and earn all Pac-12 honors as a senior after coming in as a two-star recruit and undersized running back. That work ethic lead him to friends and eventually business partners in teammates Wendell Hunter and Wale Forrester, as Forsett came in and immediately took to running the stairs in Memorial Stadium
"I wasn't highly recruited coming out," Forsett noted, "I was a late addition to the team, and I just knew I had to establish that work ethic. I was going to do anything to take advantage of my opportunity, I wanted to be a true freshman, I wanted to play right away, so I was doing extra work. Running stadium stairs was one of those activities I would do, build my endurance. One day I came in from running the steps and I saw two guys, that was Wendell and Wale, that was my first introduction to them, them to me, and we kinda hit it off from there."
Forrester and Hunter, a defensive back and linebacker respectively for the Golden Bears at the time (Hunter hosted Forrester on his official visit to Cal and the two roomed together in Berkeley) are teammates still with Forsett, now in a completely different context. Now they've created Shower Pill, a body wipe meant to be a shower supplement, as the trio is set to be on ABC's Shark Tank, a reality show with entrepreneurs looking to secure investment from "titans of industry," this Sunday.
While it's a serious product now, the beginning of Shower Pill started as a bit of a joke between teammates.
"The shower pill," Hunter said, "being this hypothetical pill that they'd say they were taking when they didn't have time to get to a shower. The problem we had, you can only imagine the schedule we had, going to classes, being in this college football environment, the authorities, our coaches, our athletic trainers, we went to them with every problem we had, it seemed like they had a solution for everything whether it was hydration, our recovery, or for apparel, but hygiene was something that was really overlooked."
"They had Gatorade for hydration, they had muscle milk for supplementation, they had something for everything in the locker room," Forrester added, "but they didn't have something for hygiene, so that was kind of a eureka moment."
The decision to make this into a product came partially due to their experience at Cal around other student athletes, and partially from Hunter's and Forrester's time in the medical field, Hunter as an EMT, Forrester as a firefighter(where he's currently the Lieutenant of Fire at the Oakland Fire Department).
"It would always be hygiene when we were in training camp and we had double days," Forrester remembered, "You've got this really dynamic day and no one's thinking about the player's hygiene, and it's a low key secret that people get skin infections in college. Fast forward to when we're adults, I got into the medical field as an EMT and I worked at Alta Bates as an emergency room technician while Wale was a firefighter, and we became really adept with CDC protocols and the cutting edge techniques to maintain our hygiene and keep us safe. By doing that, we really started to make the connection that when we were in college, we were greatly exposed. Guys would get staph infections, it's not just yeah I want to get clean so that I don't smell, it also had safety and health implications."
"Once we thought of that concept," Forrester said, "combined with the real problem, we married the two, and voila, we had something."
After getting together a prototype, there was still work to do before this idea became a reality. One part was seeing if this could fill a need for athletes, which is where Forsett came into the picture.
"So when we realized the big companies miss this huge thing called hygiene," Forrester noted, "we said man, there might be a market opportunity. It wasn't until we took it to Justin, with the Seattle Seahawks, and he passed it around the locker room and got confirmation from the staff and the players that it was a feasible product, we didn't really know we had a business until then. Once that happened and we put it on Amazon and started seeing sales, that's when we knew that this was an actual company."
At the same time, they had some extra help from their time at Cal. Ron Coccimiglio, known to the players and staff as "Coach Coach," is now the Bears' director of career development, but before that, he served as a volunteer defensive assistant, assistant director of football operations, and an unofficial mentor to players with the want to get into business.
"Once we decided that we were going to start a business," Forrester said,"he was actually one of the first people we talked to. He gave us some good advice and was able to plug us into some different people."
Coccimiglio, a former Cal defensive back, has experience in business, having worked as the vice president of two print firms, a partner in a print brokerage, and as the owner of several Yogurt Shacks in the Bay Area. In being around the program, Forrester, Hunter, and Forsett came to know him as someone they could ask for help.
"They knew I'd done other things on the outside and had my own business," Coccimiglio noted, "and so they came to me. They used me as a soundboard in business and how to get started.Myself and J. Torchio (a former Cal QB) kinda helped a little bit, we tried to help and give guidance. They've tried to do a lot of it on their own, initially it was kind of a slow growth, I think they're about ready to burst out, whether it's through the internet sales, not being a brick and mortar."
Coccimiglio helped them as a sounding board and a connector to other alums who could help give the trio advice moving forward.
"It's great to have that," Forsett said, "especially when you start a company, have some mentors and advisors come in and play an instrumental role in helping the guys out and having guys at Cal like coach Coach stepping up and like 'hey man, whatever you need, whatever you guys are envisioning, I want to help out and serve as best I can,' and we bounced ideas off of him. It was huge, a lot of people don't have the access or the opportunity to have those type of mentors and advisors, and it played a big part in us growing as a company."
"The support of coach Coach and the Cal staff, and some of the alumni who supported us and helped us out in our incipient stage," Forrester said "that was all Cal. Us being able to walk into doors and get opportunities post-graduation, that was Cal, once we said we were Bears, a lot of doors were open to us."
With their product solidified (spending time recently in UC Berkeley's startup incubator, Skydeck), growth on an upswing and a (pre-recorded) presentation on Shark Tank set to air at 9 PM Sunday on ABC (in front of Mark Cuban, Lori Greiner, Barbara Corcoran and Alex Rodriguez), the founders credited some of their success to the environment around them at Cal.
"One," Forrester said, "we had an academic schedule that was rigorous and you didn't have time to take a shower, and two, we were around so many talented people inside and outside of the locker room that you have this belief that you can accomplish anything, and it helped us to be crazy enough to go out there and create a company."
"It allowed us to dream above and beyond the field," Forsett added, "where a lot of people in sports, it's a narrow minded focus, football is the end-all, be-all, but when you go to a university where a lot of people are successful in a lot of different arenas in life, business, and there's many facets. You get to see that, you get to experience it and you get to see with your own eyes which makes a huge impact. It made an impact on me and I'm sure my partners as well that we can do whatever we want to do."
That experience in Berkeley has afforded them the opportunity to go back and help other student athletes, and to call dibs on a few interns.
"I come back every year for the Cal football roundtables," Forrester said "to support Coach Coach's programs. I also mentor a lot of the student athletes, I ask them to intern for us with Shower Pill."
"We go back all the time," Hunter said, "It's really important for us. For us, we've been really fortunate to have some people assist us, and if we were able to pull from our athletic experiences to create a competitive advantage, we want others to do the same as well"
For now though, while this is far from completion, getting to go on national television, is that much more validation for the Cal alums as they move forward with their product.
"For us, Shower Pill has been our best kept secret," Forrester said, "we always knew it could be special because we have real customers, it's a real problem and it's a real solution to this problem, and we see Shark Tank as an opportunity to share it with more people."
"It's just a blessing man," Forsett noted, "it's a hard feeling to express, getting that call that you're going to be on. It's pretty surreal."
The website for Shower Pill is showerpill.com