McGovern accepts walk-on offer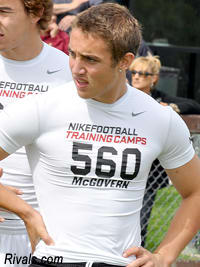 Bryce McGovern
is the type of player who may not exactly fit in any particular role. But one thing is for sure: he's a flat-out football player, and next year, he'll come to Cal as a preferred walk-on.
"It came down to location -- how close Cal is to my home -- as well as just extremely good football, and a UC Berkeley education is nothing to look down upon, either," McGovern said. "I feel like I'm getting a great education at a place very close to my house, so it was an easy call for me."
This season for Danville (Calif.) Monte Vista, McGovern caught 71 passes for 1,200 yards and 11 touchdowns - all team-highs - while adding 29 rushes for 172 yards and a score on offense. He returned two kickoffs for 58 yards, returned four punts for 13 yards (four fair catches), completed both of his attempted passes for 51 total yards and a score and even had seven kickoffs for 150 yards and two touchbacks. Simply put, McGovern can play, which is why Cal head coach
Jeff Tedford
called him a little over a month ago to offer him a preferred walk-on spot for next season.
"Coach Tedford had actually been talking with my coach, Coach Craig Bergman, before he talked to me, so when he called, we didn't know when he'd call, but we knew he'd been talking to Coach Bergman," McGovern told BearTerritory on Wednesday evening. "We knew that there was always a chance, maybe. We kind of had the details from that, already, but when he called, he gave me the whole rundown on what a preferred walk-on was, how it would work, where I would stand, how they treat everybody equally. If you're a Bear, everybody is equal, whether you have a 100-percent scholarship or you're a preferred walk-on. I was just so excited to even hear that I was being considered by Cal, because they're just such a prestigious football and academic school."
Even with a career 177 passes caught for 3,263 yards and 28 touchdowns, and a Northern California-record 2,063 yards and 106 catches as a junior, McGovern did not receive a single scholarship offer this recruiting cycle.
Several Ivy League schools -- which cannot offer athletic scholarships, but rather other kinds of financial aid -- extended offers, including Princeton, Cornell and Brown. But, when Tedford phoned McGovern just over a month ago, the 5-foot-10, 192-pound wide receiver was more than willing to listen. On his official visit last weekend, McGovern's choice was cemented.
"I was just hanging out with the dudes on the team, and it just felt like a family," McGovern said. "They're all there for each other and they're all best buds. There are no outcasts. Nobody's alone. They took me under their wings and showed me really what it was like to be a Cal Bear, and I just loved the feeling of it."
McGovern immediately bonded with his player host, redshirt freshman wide out
Jackson Bouza
.
"I can see me being pretty good friends with him in the future," McGovern said. "I loved hanging out with that kid. He hosted me and he took me back to his house, we hung out and I had a great time."
The trip across the Bay to AT&T Park also played big with McGovern, who shared his visit with
Viliami Moala
and recent commit
Joel Willis
.
"It was pretty cool, because I've been to that park a bunch of times to watch baseball, but I've never seen a football game in it," McGovern said. "It's just an amazing ballpark and we got to walk on the field and stuff. It was pretty cool to see it from the player's point of view."
As a wide receiver, McGovern spoke at length with newly-hired position coach
Eric Kiesau
.
"All the coaches where extremely nice, but I obviously got to speak with Coach Kiesau a lot, because he's the wide receivers coach, and that's possibly where they could see me falling into," McGovern said. "He's a real funny guy, down-to-earth and knows what he's talking about on the football field. His credentials show that. It's an honor to be able to work with a guy like that."
With help needed at the cornerback position, McGovern could also see time on the defensive side of the ball.
"They asked me, actually, which side I could see myself on, and it was a real tough question to answer, because this last season, I had a great time on the defensive side of the ball," McGovern said. "They noticed that, and wanted to ask where I felt I might end up. I still kind of have an offensive mind, but if I can contribute to the team best on the defensive side of the ball, I'm all for it."
This past season, McGovern made returned four interceptions for 30 yards in the defensive backfield. He also would seem to possess the necessary speed to play corner, with a 4.6-second 40-yard dash time.
"I was just all over," he said. "I played corner for the first five games, then I moved to safety for the sixth game, and from week seven to week 12, I played outside linebacker. I just kept getting closer to the line of scrimmage, and with each little move, I got more excited about defense."
Before McGovern made the call on Wednesday, another UC school --
UC Davis
-- had been making inroads to get McGovern to come in as a preferred walk-on, as well. The Aggies -- who fell 52-3 to the Bears this season -- already had the allegiance of fellow Monte Vista wide out
Dane Turner
, but McGovern was looking more to the Ivy League before Cal came calling.
"Anything I can do to financially help out my parents, I'm always going to do," said McGovern, who's parents now won't have to pay for any cross-country flights to come watch him play. "Having the chance of maybe earning a scholarship in the future at Cal is always in the back of my mind, and I'd love to be able to do that. I just have to prove myself, and hopefully I can do that as soon as possible."
Another Monte Vista alum -- receiver
Ryan Whalen
-- went the preferred walk-on route at rival
Stanford
and earned a scholarship while turning in a stand-out four-year career for the Cardinal.
"I only look up to Ryan as a player, not for any decision that he made on what college to go to," McGovern said. "Stanford's a great school, and he's an inspiration to me because he was in the same situation, as a walk-on, and if he could earn a scholarship, he'd earn a scholarship, and that's what he did. It's pretty huge to be in the same situation as him."
Aside from a squat of 405 pounds, a bench press of 255 and a clean of 312 pounds, McGovern currently carries a 3.5 GPA, and says that his favorite class is statistics, but he does not yet know what he will major in once he gets to Berkeley.
"I'm kind of a math guy, and I like that kind of stuff," McGovern said. "I'll probably end up majoring in something else, but I haven't thought that far ahead yet. I have quite a bit of time, so I'm just going to see where I fit in as a Cal Bear, and I'm sure I'll make a good decision."