Early Signing Day Recruiting Awards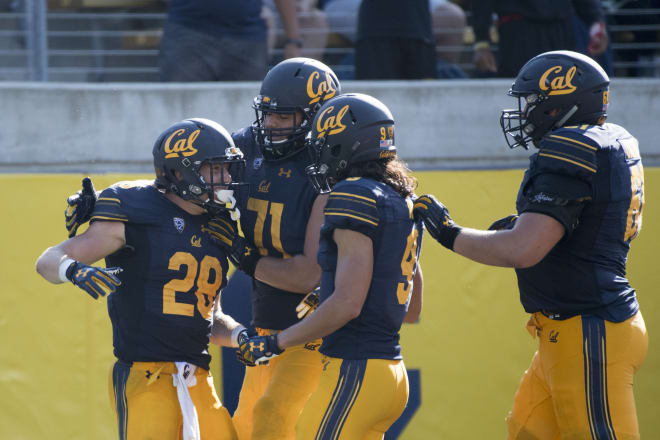 The dust has settled on the early recruiting period, and while the 2018 class is not complete for Cal, they signed 18 players in the class so far, giving them a solid base to add onto.
For now though, since it's the end of the year, and everyone's making lists and checking them twice, we're here to give some recruiting awards to members of the 2018 class so far for the Bears.
Early Signing Day Recap, Bears Net 18
MVP
Trace: I think this one is relatively obvious, and it's Will Craig for me. He's the highest rated member of the 2018 class for the Bears at an area of need, and someone that's likely to play right away. He impressed many at the Opening, and I think he has all the tools, mechanically and physically, to be an immediate competitor for reps. Listed at 6'5" and 270, he'll need to put on more weight, but his technique is extremely sound, which should carry him forward.
Nam: Has to be. You don't always pick the highest rated recruit for these things, but Will really does capture everything we need in the new Wilcox era.
Best Offensive Player
Trace: I'm going to try not to repeat guys on this list, so McCallan Castles is my pick here. Castles is exactly what Charlie Ragle wants in a TE, a big framed player who can move. Castles has the moving part down, having played receiver mostly over the past two years (due to playing in an air-raid style offense at South Tahoe). He'll have to put on a bit of weight and work on the blocking aspect of the position, but he's capable of blocking already. Plus he plays basketball, which makes him an even better tight end.
Nam: It feels like none of the Rivals writers are particularly enamored with the skills guys on offense -- I'm on the record as being lukewarm at receiver, both of the running backs are pretty good but don't scream star (although I like them), so I'm probably going to go with Jasper Friis, with a big asterisk. When Friis originally committed, I called him a luxury add and a serious project, and I still feel that way about him -- he's not really field ready and I don't expect him to be for several years, but if there's anyone to spot and shape such a raw, massive tackle-shaped clay figure, Greatwood is it. The dimensions suggest and project well. Now we just need the rest of him to catch up.
Best Defensive Player
Trace: I'm gonna go with Colt Doughty here, mainly because I think he'll be one of the most productive players right off the bat. Doughty's a local product, Los Gatos HS to College of San Mateo, and put up 177 tackle, 17.5 TFLs and 3 sacks in those two years at CSM. He can be extremely productive in Tim DeRuyter's scheme, as a downhill tackler with the freedom to flow to the ball, alongside Jordan Kunaszyk, Evan Weaver, and Gerran Brown.
Nam: Chigozie Anusiem is the pick, and it's because of the way we use the word best -- he has the highest ceiling of any of the defensive players by virtue of body type and his athleticism looks real as hell when you see how he moves with the ball in his hands. After being a little iffy about the Gerald Alexander hire -- mostly because his units didn't show a huge statistical improvement -- he's proven to be magical with his work on Cam Bynum, and a generally solid year from Elijah Hicks, to boot. I can't wait to see what he does with his next project.
Immediate Impact
Trace: It's between Chigozie Anusiem and Evan Tattersall for me, and I'm going to go with Anusiem solely based on the fact that he's enrolling early. Anusiem, a long corner unlike what Cal has on their roster, may be called on early to man one of the corner spots, in rotation with Camryn Bynum and Elijah Hicks, as Josh Drayden and Traveon Beck look to be used more as nickel corners.
Nam: Lonetoa Isara will have his chance to play right away because the Bears desperately, desperately need some more production from the defensive line. That they managed as well as they did despite losing Zeandae Johnson before the season, and without a true nose or that much disruption at end is somewhat unsustainable going forward, and the big JUCO defensive tackle will get to fight for a place with Luc Bequette, Gabe Cherry, Siu, and Tevin Paul. Honorable mention here goes to Colt Doughty. Is it cheating to list JUCOs? Maybe?
Most Fun Film to Watch
Trace: This is where I'd put Evan Tattersall, he played both ways at Granite Bay. He's a wrecking ball of a player, and Justin Wilcox noted that he was the fastest guy they had at their camp, even at 225 pounds.
Nam: I loved Chigozie's for how complete it was -- he looks smooth and again, he's a treat with the ball in his hands. Same goes for Johnny Adams, who just makes it looks so, so easy. Lasco-esque.
Receipt Guys
This is something that Nam has put together, and here are the ground rules:
Liking a player is not the same thing as having receipts on him. Receipts implies a level of confidence in their success, like a lottery ticket you're waiting on. You're calling your shot early.
You can have receipts on a guy only early into his career. This is not the same as picking breakout players for a given season.
You cannot have a receipt for every player in a class, nor should you. That is unreasonable, and smacks of Stephen A. Smith level take-making.
Receipts for obvious studs – Demetris Robertson, for example – are worth less. Having receipts is meant to speak to your discerning eye for talent, and when the talent is so clearly transcendent, your bragging rights are worth much less.
Trace: Now that the explanation is in, Nam and I each have three guys.
Nick Alftin: Frame and explosiveness here. 6'5" and 240, with a nice vertical leap due to his volleyball background, starting out as an outside linebacker. Can bat down passes and be a solid pass rusher due to his length. Needs a bit more coaching up, but he's a guy who really loves football, something that Wilcox noted as a sticking point for the guy they're recruiting.
Castles: See above. He's tall, can move, and plays my favorite position in football, tight end.
Jasper Friis: Built like a fridge, enrolling early, and moved to the US, as a 16 year old, pretty much to play football (and get an education). That's someone who loves football. The extra time with Steve Greatwood is going to help his technique and understanding of the game.
Nam:
McCallan Castles - Large potential matchup problem who will have to add bulk over the next two years, but moves really well for his size. More fluid than Laris, and bigger than Tariq Johnson, who I projected in the same way a few years ago.
Johnny Adams - Polished, well-rounded skillset that projects to 20 touches a game. Not really a burner, but uses his vision well to get yards. Reportedly a talented pass catcher at 7 on 7 camps, too.
Evan Tattersall - Originally not as impressed with him until I saw his senior tape, Tattersall just gives me a good vibe that he'll find a way to contribute. Trace speculated he might fill that H-Back role that McMorris has, or play running back, or linebacker, or hell, safety if he can keep right -- with a hard nosed athlete with a high motor and explosiveness, they'll find a place for him somewhere.
Best Recruiter
Trace: Without a doubt, Steve Greatwood. Five OL prospects who were coveted by other members of the Pac-12. A great reputation as a coach, and Matthew Cindric described him as 'demanding without demeaning,' an approach that speaks to many recruits that want to be high achievers. He was also involved in recruiting McCallan Castles and Evan Tattersall, and is the Bears' recruiter for Northern California.
Nam: Duh, Greatwood.