Day Three of practice is all about intensity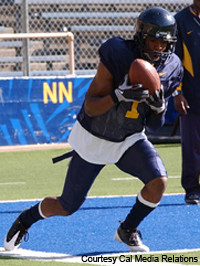 Briggs sprung up at the sound of the whistle and glared. About a half-second away from the first training camp fisticuffs of the season, the two locked eyes and then, walked away.
The protect-the-quarterback drill towards the end of the session was, by far, one of the more intense battles to which the media has been privileged, and, even after Wilkerson and Briggs locked horns, that bubbling ferocity continued to simmer.
"That's a real competitive drill, right there," said Fanua. "Basically, it's working on one-on-ones that we're going to see during the game, and I'm talking about linebacker versus running back. For linebackers, we've got to get through whoever's going to block us, and most of the time, during blitzes, that's going to be the running back. We've got to be able to work our moves to get past them to work that sack."
"Our offense is working hard, our defense is working hard. We're both trying to get to be the best that we can be," Fanua said. "As long as we keep giving each other competition, the way I see it, our defense is there to make our offense better and our offense is there to make our defense better. So, it's constant competition, and that's the only way that we're going to get ready for that championship game."
"As long as I stop him, save the quarterback, give him a couple seconds, we're good," Sofele chuckled. "Just got to slow him down."
Fanua was similarly jocular recalling his engagements with Sofele.
"He's my brother," Fanua smiled, tapping his fist to his chest. "Isi's a tough man, and I give a lot of props to him."
Tedford has been impressed by Fanua's push early in camp, and sees him as competing for some significant playing time when the first whistle blows this season.
"He is really aggressive," Tedford said. "Steve has a great passion for the game. He really plays hard and he's going to be a good player. He's going to definitely contribute for us. He's already a big special teams player, takes a lot of pride in what he's doing and he plays fast."
"Every team has a big play-maker," Sofele said. "That guy's the guy that wants the ball all the time, does special things for the team. He's out there to lift the team up. (Getting first-team reps) has helped me a lot. We've got some strong competition out here. We don't know yet who's going to be out there, so we'll see, by the last day, who the second-string is."
The fact that whoever wins the running back derby would likely be the starter come 2011 is not lost on Sofele, who is more than aware of the legacy of the starter-in-waiting nature of Cal's one-two punches of the past.
"That enters my mind every day," Sofele said. "Every day I wake up, I just open that playbook, keep studying, try to focus and stay focused all day, especially in this camp. It's 24 hours, football, football, football. You've got to be mentally strong as well as physically. I'm trying to stay in there, trying to get that second spot as hard as I can."
"It's great news," Tedford said. "Just looking at it on tape, we were afraid it was going to be something worse than that. He got a bone bruise. He got hit on the side (of the knee) by a back, so when (the knee) came in, his knee went down and the two bones smashed together. They're thinking probably two to three weeks until he's back to doing some stuff. Anytime you see something like that, you hold your breath, so it's good news."
"We're planning on going with that," Tedford said. "I would say that (Summers-Gavin) will be ready by the opener. I think Donovan coming along like he did is a positive for us, so we put him at right tackle, and we feel that he's going to do a fine job there.
"We're trying to get our best combination up there, and Matt's proven that he can play really well inside and Mitch is a good player out there (at tackle). Donovan has come a long way. We've got a whole bunch of guys inside there, really competing."
"He's doing fine," Tedford said of Fisher. "He's solid, he's solid. We got a lot of guys in the mix, though. The offensive line is very competitive, to find out who's going to be the top eight guys.
Though Fisher is the current left guard while Summers-Gavin recovers, Tedford said that the job of backup is far from decided.
The current starting defensive line remained much the same as it has since Tedford released the team's initial two-deep, led by the veteran presence of Jordan, who, during late-practice situational drills, chased Sweeney out of the pocket from the blindside and then finished the job with a double-tap on the sophomore signal-caller's shoulder, signaling a sack.
"Deandre's a load," Tedford said. "I would hope that they try and single-block Deandre. That would be advantage: us. That would be a good thing."
"He played well today," Tedford said of Williams. "We feel pretty good about the guys at the corners. There's some guys there that have played and that have some experience who all had a great spring, and so far, he's taking over right where he left off during the spring. He had a solid day today, but we're only on the third day of practice."
"I just try and go out there and compete," Williams said. "I'm not trying to stand out and be an individual separate from the team. I just want to compete and be the best that I can be. You get a chance to play, you've got to take advantage of that opportunity."
"Probably Kaelin, either Kaelin or Steve Williams," said Sofele, a speedster in his own right. "That dude is fast. We got some pretty good freshmen this year, so who knows who's going to redshirt or not."
After hauling in a six-yard pass from Sweeney early in drills, Clay exploded for a 70-yard scoring dash on a pass from Bridgford, hauling the ball in at the opposing 40 and making a quick step to split the corner and safety before pulling away down the left sideline.
During situational drills at the end of the session, Calvin reeled in two tough balls, one for a first down from Riley and the second, a 10-yard strike from Sweeney on which Calvin saw plenty of contact, but still held on to the pigskin.
"He's right there as a starter," Tedford said. "We don't have any nickel stuff in yet or anything like that, but right now, we just figure out who the guys are, and when we switch to nickel, then we'll see who'll play nickel. There's still some things that we need to do. We're in a very preliminary part of installation, and we'll start ramping it up a little bit tomorrow."
On the topic of nickel packages, the nation's No. 1 safety recruit Allen, who could possibly see action in those situations, has yet to see a defensive snap in camp.
"Keenan won't see any reps on defense through the camp," Tedford said. "Keenan's got enough to handle right now, and he's going to be a major player on offense. Right now, we need to have him focus on one side of the ball, and as he gets really comfortable with that, then we can see where he fits (on defense)."
Both Allen and Williams continued to see action with the return teams. Williams could very well be in the hunt to replace departed punt returner/corner Syd'Quan Thompson, though he prefers the relative order of running back kickoffs.
"I like kick return," Williams said. "Kick returns would be my preference, when you have guys blocking for you. You don't have to see who's coming or fair-catch it on kick return."
While Williams did not see the field at the same time as his former Dallas (Tex.) Skyline teammate and fellow corner Lee, the younger Texan acquitted himself quite well when he got the chance to shine, covering, among others, the explosive Allen.
"I'm letting him know how the world goes, just letting him know how I go," Williams said of Lee. "It's nothing really different from Skyline. I was the older guy at Skyline, and I used to show him how to play cornerback then, so it's kind of the same. I just show him around, show him how to play."
Lee's most eye-opening play was a stay-with-it pick on a pass from Bridgford, intended for Ross, who made a great effort trying to shake the young defensive back before Lee was able to snag the over-thrown ball.
All joking about this reporter's 10-inch vertical aside, Conte has seemed far more at home at his natural position than he has in previous years at cornerback."
"Mullins is doing fine," Tedford said. "He made a real good play on one of the plays down here, filled the gap really well. He's finally healthy for the first time. He's been really nagged with injury over his whole career, and finally he's getting to where he's really moving around well."
"Nick Forbes is going to be a good player," Fanua said. "I see a lot in him, and I have a feeling that he's going to be a real great player for Cal."