Cal 23, ASU 21: Unsung hero Josh Hill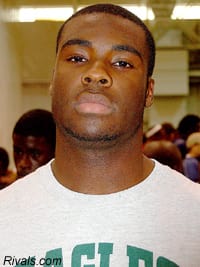 In Cal's 23-21 victory over Arizona State, there were plenty of heroes. Topping the list was of course quarterback Kevin Riley for twice navigating the Bears down the field into field goal range for kicker Giorgio Tavecchio.
Tavecchio got a hero's welcome to the fans who made the trip to Tempe after the game for making the needed game winning kick with 24 seconds left. There were even the strong performances by wide receiver Marvin Jones with his 4 key catches and a touchdown as well as Syd'Quan Thompson for his interception in the 3rd quarter.
However, one name that won't show up on many people's list is cornerback Josh Hill who quietly had a very good game. He was instrumental in two turnovers in the game. The first was a forced fumble on the Cal 2-yard line in the 2nd quarter that was later picked up by safety Brett Johnson, preventing ASU from scoring on one of their red zone opportunities.
"I felt like I did a lot better than last week," responded Hill when asked about his role in that fumble recovery. "I just went into the game just trying to focus on my technique and doing the best that I can to help my team win."
The second turnover Hill had a hand in was an interception that linebacker Eddie Young came down with. When ASU quarterback Danny Sullivan launched the ball at his receiver, Hill managed to get his hand in between the receiver's hands forcing the ball out just as he was corralling it. The ball popped up into the air just enough for Young to dive and catch it.
Even with those two important plays, he had a third play that might just have been the most important play of the game.
With just over 3 minutes left in the game, ASU had the ball and was up 21-20 and was trying to run out the clock. On third-and-3 from the ASU 30, ASU gave the ball to running back Cameron Marshall, who was bottled up in the middle by the Cal line. However, the line was unable to wrap him up and he bounced to the outside.
"I almost didn't see him," Hill admitted. "It happened so quick. I just saw him bounce outside so I just reacted and I had to go out there and tackle him."
But Marshall had been dragging tacklers for extra yards all second half and it was imperative that Hill get him down short of the 1st down marker. It didn't matter how short, with ASU so deep in their own territory because they couldn't risk going for it on 4th down, it just mattered that he got him down.
"Luckily we had our left corner, Josh Hill, out there to contain the outside," recalled fellow corner Syd'Quan Thompson. "Josh just made a big play for us. The ball was a inch from 1st down marker and Josh was able to take out his legs and get him down."
"Really I didn't think he was that close to the first down," Hill conceded when asked about his confidence in his ability to make that play. "I knew I was going to make the tackle. I wasn't really tripping about that."
"That was a big series for us," added defensive coordinator Bob Gregory who chose not to focus solely on Hill but on the effort of the entire defense. "The kids knew they had to stop the run. It was a little scary there. They were great. All game those guys were really focused on what they had to do."
But it was Hill who made that critical stop and Gregory was happy with his performance overall.
"I thought Josh (Hill) had a better game," he said. Referring to the fact that he both played well and had struggled some in recent weeks.
"It's crazy," Hill added for his part. "You just have to stay focused is the main thing. You just have to continue to get better and forget about the bad day, forget about the good things even, just keep getting better."
Somehow one has a tough time believing he'll forget about the good when it comes to remembering how he came up with the key stop that gave the Bears the chance to win the game.
Ken Crawford is a staff writer for BearTerritory. A lifelong Cal football observer, Crawford has covered the Bears since the 2006 season, which included an up close and personal view of the memorable 31-24 victory over Oregon at Autzen Stadium in '07. Crawford will continue to various handle Cal football assignments during the 2009 season.