Bodies By Blasquez
A sampling of his satisfied customers:
Blasquez has spent 20 years as a strength and conditioning coach, including 11 at Concord (Calif.) De La Salle, where teams under his watchful eye went a remarkable 138-0.
"That's all Tosh," Blasquez laughs, when asked if he's responsible for the rising coaching star's physical conditioning. "I can't take any credit for anybody's conditioning. I only provide the tools, and hopefully a little guidance. Tosh is, yeah, he finds a way to stay on top of it. As hard as he works, that's tough."
Blasquez is about to get some more of those tools, as the new Student Athlete High Performance Center -- a center that he helped to design -- is on the cusp of opening its doors.
Equipping the facility means adding some of the most innovative technology both for the athletes and for the staff that's responsible for training them. Along with the usual machines, squat cages, weight trees and plates, the new center will have computerized workout monitors and much more.
"I think the whole concept for what we're doing there is very innovative, in terms of how we integrate everything that helps an athlete to be able to perform on the field," Blasquez says. "We really have the resources where -- whether we're in the weight room or in our case, we will probably have a different name for that facility because there are going to be so many activities going on in there -- we're going to be doing so much there in terms of strength development, explosiveness and maybe nutrition or maybe blood chemistry, down the road. Those are all things that we're looking at being able to integrate to be able to get the end result, which is performance of the athletes."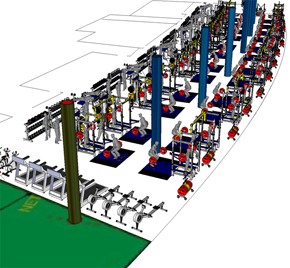 The new Student Athlete High Performance Center will be massive. Inside the 142,000 square foot facility, Cal athletes will find not only meeting rooms, medical facilities and academic advisors, but a weight room 100 yards across.
"If you walk into that room right now without the equipment in there, it's a big room," says Blasquez. "It's 100 yards across, just in the training area, and we're going to take about 30 yards of that and turf that in."
You heard that right: turf. Adjacent to the actual lifting area will be a 15x30-yard block of artificial turf. Fitness assessments, warm-ups, medicine ball work, sled pulling, sprint mechanics, reconditioning and rehab work will all now be open to athletes mere steps from the weight racks.
"There are some pillars in there, so we really, you're not going to be able to run practices," says Blasquez. "You'll be able to run some speed work or some SAQs -- speed, agility, quickness drills -- and we'll be able to warm our athletes up. We'll be able to go out there and do some sled pushes and drives, and have a spot where we can do things where we just haven't had access or the ability to do them in the past, so it'll be nice in terms of having that right there."
The so-called HP Zone will include a full complement of cardio machines, selectorized exercise machines and rehabilitation spaces, complete with AlterG treadmills.
"It allows us to do different forms of contrast training, where maybe they do something with the weight and then do something in a running motion with a plyometric exercise," says Blasquez. "There's some cool things that it really opens the door for us to do. In terms of really being able to get out there and get a whole team moving around, it's not quite that much space, but it's just going to be a really nice option for us when we're up in there."
The aforementioned touch screens will be mounted on the pillars in the facility, giving the staff and players access to electronic training journals and real-time performance tracking. Another feature that is simple, yet effective, is the location of weight trees. Athletes will have to walk no more than five steps from their given apparatus to pick up new plates.
The six training areas, called 'PODS,' are each designed to accommodate every aspect of the workout in one location -- including weight trees. This allows student-athletes to complete an entire training session without the need to move or wait for equipment.
Weight lifting plus science labs. Next thing you know, he'll be building cyborgs.
Beyond test tubes and blood analysis, the new center will include a state-of-the-art weight room with digital touch pads tracking each rep, each pound lifted, each pound gained and lost and each drop of sweat. Ok, that last one may not be real, but the rest of those metrics are.
"We eventually got to a place where now we actually have monitors in the weight room -- touch-screen monitors -- that we can get all their workouts on those monitors, and when they enter their weights from a particular exercise, that automatically runs reports for us. So, instead of having to crunch numbers and go back and look at things, the system's already set up so I can just click a tab and the report's already there."
All of that, in the name of efficiency. But not just on the coaching side. Fewer lifting data points floating around in a lump of grey matter already taxed by girls, quizzes, homework, lecture notes, midterms, finals, rising costs of gas, scooter parking permits and the physics of beer pong mean more room for learning new pass rushing techniques, puzzling through blitz packages, route trees, read progressions and protection schemes.
"Instead of guys working in here or going through the motions or picking up a weight, not knowing what your real goal is, you're exercising with a goal in mind. A big part of it's physical, and part of it is psychological," Blasquez says. "Going in and really attacking their workout and really going in there with a sense of purpose, I mean, it's really helped us with that. The key for it, for me, was how can we create a deal that's non-intrusive to the athlete? You can do this kind of thing, and you can have them walk around with a laptop, and that becomes very intrusive. It's something else that they need to think about. I've got athletes coming in, and they're going to squat. I want their mind, their focus, completely dedicated to what they're doing. I want them to know exactly what they're trying to accomplish, and I want them to attack it. What we've done is we've created a method that really gives us both. It allows us to track the athlete and it allows us to monitor them in a better, more efficient way, and it's doing it in a non-intrusive way to them, and at the end of the day, it's really saving our time as a staff on the end game, in terms of running reports and those kids of things. It's very useful for us, in terms of tracking."
Blasquez earned a degree in kinesiology and certifications in athletic training and strength and conditioning. He worked as Director of Outreach at Muir Hospital Orthopedic center in Walnut Creek. As he says, it's not necessarily about the 'how' of lifting -- moving a weight from point A to point B -- but the 'why.' He's concerned as much with his athletes' heads as he is with their biceps.
"It's efficiency, and what it allows us to do is to see if we're really doing what we intended to do in this training session, and this is a piece of that. Not all of it; just a piece of it. The objective side of it, the actual numbers, the weights they lift, is just a piece of it. I can look back and say, 'OK, here's how you progressed,' for two reasons: one -- what can we learn from that? -- and two, let's set some goals moving forward. Here's where we were two weeks ago, here's where we were last week, here's where you should be the following week. Let's make sure we're task-oriented, we're goal-oriented, so that when you walk in here, there's a sense of purpose."
And so far, the team has responded. Players strut around the surge facility with their shirts off, proudly showing off their newly-acquired muscles.
"The one thing that I just love is that after every lift, we all come together. When you're done with your lifting, you don't go. You have to wait until everybody's done, and you all come together and we end together. We'll do that hard circuit at the end, then group core work, and we all end together. It's so hard, but it's so effective. It adds bulk and it adds strength, and that's the one major thing that I love what he does."
After a disappointing 2010 season, getting the team to buy in to togetherness, a sense of accountability, was an easy -- but necessary -- task.
Whether on the spring camp practice field, doing winter workouts on Witter Rugby Field or in the weight room, Blasquez has instituted a dress code of sorts. No one stands out. No one is different.
"Right now, I think one of the major differences is bringing the team completely together," says Jones. "We have matching uniforms, and nobody wears anything that's different. Nobody sets themselves apart from anybody. Those shirts that have 'Team Matters' on the front and on the back, so on every lift, every time we're on the field, even when we're in pads, all of us look in-uniform. He brought that here to the team."
Blasquez's philosophy centers around the total health of the individual, both physical and psychological. Despite being in excellent physical shape himself, he has put the players themselves in charge of motivating one another, to, in a sense, turn themselves into coaches.
"The offensive line and defensive line, what they've done is they've put together the strongest guys to go against each other and make them spend the most time with each other, and I really feel like it's strengthened the bond," says King. "I don't know who's idea that was, but now they have the big guys -- the O-line and the D-line and the tight ends -- lifting together and we do a lot of things together, separate from the skill and speed guys, and I think that's really strengthened our communication and growth as a whole team."
That includes even the little things, like simply counting reps.
"Part of execution is communication: your ability to verbally communicate with your teammate -- with your partner," says Blasquez. "Some of the things we did early on were very simple, like counting each other's reps. If I'm lifting and you're my partner, you're right there, counting my reps out for me. Pretty soon, those reps turn into a little verbal cue -- 'Hey, come on, you've got it! One more! Two more!' -- and then, pretty soon, these guys started feeling very comfortable communicating with each other, pushing each other and talking to each other."
Instead of camping out in one area and overseeing his weight room, Blasquez gets down and dirty, looking into the minutiae of every rep, the mechanical aspects of every movement.
"The program now seems more personalized and more structured for each individual athlete, for their weaknesses and strengths," says King. "I feel as if coach Blasquez didn't come in and assume that we know how to lift weights properly. He assumed that we're just babies in this stage, that we're in the baby stage of lifting weights. I think that might have been a misconception by our prior strength and conditioning coach, assuming that -- since we were football players, that we've played and we've lifted to the point of getting to Cal -- we were sufficient or good enough to lift without hurting ourselves. Coach B came in with the mindset that, 'I'm going to have to re-train these young men,' and that's exactly what he's done."
That's translated to the field, given the players the confidence to push each other on each snap, each drill, each hit.

"I spend most of my time -- at least probably 80 percent of my time -- with football and 20 percent of my time with the oversight of everything else," says Blasquez. "The good thing is that I've got a great staff and great support."
"It's efficiency, and what it allows us to do is to see if we're really doing what we intended to do in this training session, and this is a piece of that. Not all of it; just a piece of it," says Blasquez. "The objective side of it, the actual numbers, the weights they lift, is just a piece of it. I can look back and say, 'OK, here's how you progressed,' for two reasons: one -- what can we learn from that? -- and two, let's set some goals moving forward. Here's where we were two weeks ago, here's where we were last week, here's where you should be the following week. Let's make sure we're task-oriented, we're goal-oriented, so that when you walk in here, there's a sense of purpose."
The first order of business for Blasquez and his crew when they took over was to figure out just what kind of clay they were going to be molding, particularly when it comes to the offensive linemen.
"That's where body composition comes in. We assess all of our athletes on a very regular basis," Blasquez says. "We look at body composition, percentage of body fat and lean muscle mass, and we correlate that with strength. Particularly with offensive linemen, is their weight moving up, and if it is, what kind of weight is it? Did they put on five pounds of body fat, or did they put on five pounds of muscle? In the case where we're trying to lose body fat, OK, they lost three percent body fat, but what's their strength doing? Did their strength drop with that? Because, if it did, we need to make an adjustment. At the end of the day, what we're looking for is a heavy athlete that's mobile and strong, and if we drop the body fat off of them, and their strength is dropping, now I don't know if we've done anything but make them worse."
Beyond the usual Bod Pod tests, Blasquez has incorporated even more detailed diagnostics that scrutinize every ligament, every joint, every tendon.
"We met with each coach, got with them, 'Hey, what are the things that we're doing well? Where are the areas that we're struggling in?' We assessed and screened every one of our athletes," says Blasquez. "We looked at mobility, flexibility, stability. We had some surgeries -- what are those surgeries? Are there things that are there that we can learn from to be able to readjust our training a little bit? -- so the physical assessment side, clearly, is there. To be able to go back and then, at the end of the day, just knowing some of the primary standards for those positions, and based on those things, you build your program."
The screening process involved complete work-ups and work-outs from each player, to find a weak knee here, a muscle imbalance there.
"The screening process for us has been really good. What we'll do is, it's an individualized deal for us. We'll assess each athlete, determine what the areas are that need work and then we'll assign them corrective exercises to be able to deal with that, to be able to resolve those issues, and then we reassess them on a regular basis to make sure we're going in that direction," says Blasquez. "Sometimes, some of those things, is it crystal clear? Is it going to prevent an injury? You just don't know. But, you're attacking it. You're being proactive. There are others that are crystal clear - man, if we would have found this, this would have at minimal, affected performance, and in a worst-case scenario, could lead to injury. So, we're dealing with that a lot, and it's really helped us with the athletes."
Problem areas that had yet to be identified became painfully obvious through the screening process, and in some cases, just plain old weight lifting actually exacerbates those problems.
"We've had athletes that came in through our screening and we turned up some significant mobility issues, which they've been able to correct," says Blasquez. "The feedback is, they're moving better on the field. They change direction, they play lower, we're getting some of that feedback, and you can draw a correlation to the mobility work that they're doing.
"If you don't assess them early on and screen them, you never learn those things maybe until they get in pads and coaches are going, 'Why are they playing so high? Why can't they do this on the field?' Some of it's technical, and some of it's physical. I think, on the physical side, we're able to attack that and we've been able to make some progress so far."

During the Bears' spring camp session at Moala's Sacramento Grant High School, Moala mentioned that he'd been doing an abdominal workout designed by Blasquez.
"Man, I don't think I've ever done anything that hard," Moala smiled. "I don't even have those [ab muscles] yet!"
"All these athletes are here for a reason," says Blasquez. "They all have tools and hopefully, going back to earlier, we decide what happens when they need to get here. With Vei and some of the other players coming in, I'll be looking forward to getting with the coaches and really finding out what they're looking for from those athletes and doing our screening on them and assessing their bodies and seeing what their needs are and then help directing their training to get the most out of them on the field."
As for the returners, Blasquez admits that the 5-7 season a year ago has tapped into the oldest source of motivation in sports: the desire to win.
"Those guys are special athletes," says Blasquez. "Through our testing, they really have done some great things. Looking forward to see how it translates on the field."
Blasquez wrestled, played football and played baseball at Hayward (Calif.) Moreau Catholic, and though he never gets into the weight room with his players to maintain his own impressive physique, he still finds time to keep up. That competitive background, he says, gives him an advantage when forging winners.
"It's a great thing because I've always been competitive," Blasquez says. "To be able to sit on the coaching side of things, it kind of quenches your drive for competition and it's been great being able to stay in sports in this capacity and do this as a profession."
Beyond tailoring workouts for each player, Blasquez and his staff have worked with the position coaches to specifically engineer programs for each position group, determined in part by the motions they will be using on the field. For quarterbacks, of course, there is no single lift that can increase velocity, not that it stops Blasquez from drawing up a series of workouts with as much flair and creativity as the most revolutionary offensive coordinator draws up a play.
"One, the torso, the midsection, from the ground up, the rotational movement pattern, that's something we do strengthen. The speed of the ball from that rotational movement coming from the front side is something that we spend a lot of time on with rotational exercises, but it's really about a progression: Do you have a base level of strength throughout your entire body? Do you have specific strength, which would be rotational strength, and do you have stability?" he says. "A lot of times, we look at the decelerators in the arm to make sure it can support the release of the ball, so we're strengthening that portion of the shoulder, which is the backside, we're on top of the rotational movements and we stay on top of the mobility so they can move through a full range of motion in the throwing motion.
"Part of it also is preventative. Our quarterbacks come in and their shoulders are going to be sore [after throwing], so what do we do about that? You can say, 'OK, we still want you to just go through your weight workout,' but you can be very non-productive at that point. We need to make the adjustments and understand the demands of the position at certain times of the year. Part of that understanding with the quarterback is making sure that the exercises are appropriate and we're doing things to help them get through the stresses that are put on the shoulder in the game. All that becomes a part of the process."
"Coach Blasquez has us on a tight regimen. We've got conditioning in the mornings at 6 AM on Tuesday and Thursday before we come to spring ball, and we lift three times a week on Monday, Wednesday and Friday," Maynard says. "It's a very intense workout, so we're building muscle mass. There's also a lot of cardio, too, so we can come out here and perform."
Position-specific workouts have not only helped some of the skinnier players put on some much-needed weight, but have also assured that that weight is good weight on the larger athletes, as well.
"It's consistency, just consistency," he says. "We want to make sure that we're doing everything right along the way, and the nutritional piece is a key piece of the puzzle, making sure that they're getting their meals in, eating at the right times, getting the right number of calories, that the macro nutrients are correct, and then, in terms of the weights, staying consistent and what we're looking for. The strength is there. They're developing in terms of their strength, and the goal is not necessarily just getting a bunch of weight on them, because that can sometimes be counterproductive. We want to put some weight on them, but we want to get them stronger. We want to maintain mobility and speed or improve them, and so we just monitor them along the way and push them as far as we can within the system."
For Blasquez, it's about building a better athlete, not just a weight-lifter. It's about building a better jumper, a better sprinter, a quicker change of direction.
With results like that, you can bet Kiesau has bought in to Blasquez's methods.
"In the offseason, we work on our flexibility and our speed, loosening up our hips. To be a great route-runner, you've got to be able to separate, drop the hips and accelerate out of your breaks," Kiesau says. "It's not necessarily linear speed like everyone likes to look at; it's more about how you drop your hips and get out of your breaks. We'll work with the strength staff and get them going on their flexibility, their core and understanding their bodies more than anything."
"He prepares us to be effective not only lifting weights, but on the field," Jones says of Blasquez. "One thing that he does that's transitioned to the field is that he's aware of what we need to do, the lifts that we need to do to be explosive on the field. He's been instrumental in what we're trying to do and where we are as a team."
"Coach Blasquez has done a nice job with just how they work together in the weight room and how they push each other, coach each other and things like that," Tedford says. "They're involved in each other's workouts, so that helps on the field. If they coach each other in the weight room, they can coach each other out here, and it's not so much coaching as accepting the coaching. It's easy to tell somebody what to do, but it's that other guy saying OK."
For King -- who came in with knee and foot injuries that kept him off the field in the 2010 US Army All-American Game, a game in which it had been a lifelong dream to play -- Blasquez has been a Godsend.
"I had a meniscus surgery where they took a pretty large portion out of my meniscus, and that alone, plus, I had a screw in my foot, and when I was rehabbing, I was living on my own, so I really wasn't the most mature in rehabbing it the way I should when I came in, but things are changing," says King.
What has Blasquez done to target and strengthen those areas?
Aside from injury recovery, a substantial portion of Blasquez's job is dedicated to injury prevention. Whether the cause be an old, worn-out Momentum turf, having to switch from grass to dirt at AT&T Park or inherent physical flaws, it all falls on Blasquez's broad shoulders.
It's not just about technique. It's about execution. It's about perfection in every aspect of an athlete's life.
"We knew that one of our primary goals was to go into spring ball as a more cohesive unit -- guys who communicated better, guys who were concentrating, tenacity on the field, to go in and execute. That being the goal, the physical aspect of it, there's markers along the way, when you look at strength numbers, explosiveness, vertical numbers and mobility and all those things that are measured, but morphing them together really allows us to get to where we're trying to get to."
A more cohesive unit means no excuses. If you let down your teammate, your brother, or if you don't have the mental fortitude to get over nagging injuries, respect and teamwork begin to erode.
"I would say the biggest difference in our offseason program has been our strength coach," says Tedford. "I mean, all the things that he has brought to the program with the style of training, the motivation, the team policy of holding each other accountable in the weight room, I think if you talked to any of our players about the difference in the weight room and the way they're training, I've heard nothing but great, great feedback from that."
"You can look at it two ways: You can get frustrated or you can turn a negative into a positive. I see this as a negative turned into a positive. How do we overcome? How do we adapt? Are you going to allow something like this to be a built-in excuse, or are you going to be able to spin that and turn that into something that makes you stronger?" says Blasquez. "Our concept is to do that. I don't care what it is that we're dealing with. If something happens, how do you adjust to it? How do you problem solve? It becomes another skill set, and that's the same requirement that I put on the guys when they come in. If something comes up, OK, what's your answer? How are you going to manage that? How are you going to solve this issue? How are you going to be able to perform in this environment? It's really kind of a spin, a mentality and an approach that we're asking our guys to think of, to think through, because stuff like this can become an excuse for you, and we're just not going to have that. There are just no excuses for poor performance."
At least now, the excuse won't be conditioning. It won't be lack of fitness. It won't be lack of strength, mental or physical. Not if Blasquez has anything to say about it.