Beyond Belief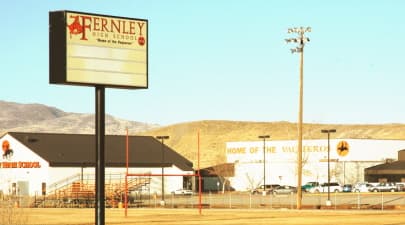 We have come across some strange and odd recruiting stories in our time, but never before have we heard of a player committing to a school without actually being offered, or having any true contact with a school. That's the story with Fernley (Nev.) offensive line prospect
Kevin Hart
, a 6-foot-4, 304-pounder. It is perhaps one of the most bizarre recruiting stories ever.
First of all, the most important aspect of this peculiar and absolutely surreal situation out of Fernley – a town located approximately 25 miles outside of Reno – is that all the cards have yet to be played. In fact, this story is actually in its initial stages. For the fans that missed the Hart story completely, here is a sample of what the folks surrounding the Reno (Nev.) area have been told by the local media, with it being reported that
Hart commits to Cal
.
That's a follow-up story to a
previous article
the day of the announcement, less than 48 hours ago. At the ceremony, two local television stations arrived for Hart's declaration, including the ABC and NBC affiliates. On the evening news in Reno, the story aired three times on Friday night alone by NBC. One on-looker described the scene as
"1,000 people, including all the students at Fernley high, were celebrating once Hart donned the hat, selecting Cal over Oregon, waving to one side of the room, then the other. It was like a war hero returning from battle."
The head coach at Fernley high school, Mark Hodges, who has coached for over 20 years in California, Oregon, Tennessee, and now Nevada, told the audience that, "this is a great day for Fernley High School. This is one young man who is going to represent us on the national level. But we'll always remember he came from Fernley." Hart was stated as being the first ever Fernley athlete to receive a full scholarship to a Division 1 school directly out of high school. His parents and grandparents were at the event, and even his grandfather, who has Hart's size, donned a Cal hat.
Hodges, who began his coaching career on the junior college level and then coached at NAIA Southern Oregon before spending over a dozen years at both South Medford and North Medford high schools alternating the titles of offensive and defensive coordinator, has coached numerous players who went on to Division 1 athletic careers.
At Southern Oregon, he helped develop two college All-Americans, including a quarterback and slot back. His last two quarterbacks at North Medford have gone on to play college football, one at Portland State and the other at Eastern Oregon, while defensive tackle David Faaeteete went on to the University of Oregon.
Hart has performed at the Oakland combine last February and at another combine in Las Vegas. He's earned senior accolades such as all-Northern 3A first team and all Sierra-Nevada. But why is this an out of the ordinary story?
The dilemma is that Hart was never extended a scholarship - not just by Cal, but by anybody that we know of including Oregon, Washington State, Oklahoma State, or Nevada. Nobody knows if Hart was extended a scholarship by any school in the country whatsoever – or that he has any opportunity to play at any school.
The scouting report we heard from those in the know said that Hart could always try to walk-on somewhere, but he'd have a long way to go despite his size because he lacks upper body strength and footwork.
Of course, that didn't stop the claim by the Reno Gazette Journal (RGJ) that "Hart was Northern Nevada's most highly sought football recruit this year." In addition, it was reported that Hart "had gained attention during an Oregon camp over the summer, after which the Ducks offered him a scholarship on the spot." With National Signing Day less than four days away, more coverage of Hart is being planned by the RGJ on Tuesday, with a profile feature story.
How can something that appears so official and authorized be completely, and utterly untrue? We'd like to know that as well. We do have some answers. What we do know is that the University of California, including esteemed head coach
Jeff Tedford
has obviously been impersonated or imagined in what is a certifiable hoax. To get to the level it did, it might be one of the more incredulous accounts in the fascinating world of recruiting.
Annually, there are reports that surface about prospects receiving offers that those close to the situation deny they have. Recently, we were told about a prospect in Southern California who stated that he was headed to a WAC school, playing safety. However, it was acknowledged that he never even had an offer. Those stories do indeed occur and most recruiting writers have uncovered them.
However, it is one thing for a recruit to create an offer from a school. Mis-communications do happen and sometimes recruiting interest is mistaken for an offer. But it is another to go through the process of announcing to the local media - with camera's rolling and news coverage in tow - and then making the type of statements that Hart and Coach Hodges made.
Of course, college coaches cannot comment on this story whatsoever – they are barred from doing so by the NCAA due to the fact that Hart is a recruitable student-athlete. But we did find out that Hart is on Cal's mailing list as a 2009 prospect. We also know that the Cal staff has had no contact whatsoever with Coach Hodges or Hart, and that they have not visited him; nor has Hart been on a recruiting trip to any school. The only thing Hart might have received is the standard junior mailers that go out - something that all schools send out to advertise their respective universities.
Therefore, we find it nearly unbelievable that a student-athlete who was not even reported to have ever made a recruiting trip anywhere, and a high school head coach that never conversed with the actual college coaching staff, could be this duped. Coach Hodges was reported to have contacted many of the local media organizations in an effort to get more attention for Hart's announcement, initiating calls this past Monday. It was reported to BearTerritory.net that he followed up those calls on Tuesday and Wednesday.
Less than 24 hours after Hart's announcement – a semi-glamorous event that obviously had everyone in the small town smiling about - nobody at Fernley high school is willing to talk about it. When Hart's grandparents were reached though, they were still excited about the decision.
"We are real happy for Kevin," George Hart said.
"He got his size from his grandparents, because his dad is 5-foot-9. But he lives in the weight room – he's always working out. We are just excited about the whole thing because he grew up in the Bay Area. So this is just a perfect fit for him."
Hart reportedly grew up in the Antioch area.
However, Hart's mother obviously knew that something was terribly wrong.
"Now is not a good time for an interview," she said. "I'm sorry. But we cannot talk right now."
Coach Hodges stated that he became aware of a problem around 9 p.m. Friday night and that he's been in meetings all day long. He also suggested, in few words, that he's been innocently dragged into this situation too, and that Hart's announcement – his recruitment – and the situation that occurred is now under a "criminal investigation."
"This matter is under investigation," Hodges said. "Right now, it is a law enforcement situation being investigated by law enforcement. So it is a law enforcement investigation being conducted by law enforcement people. We've also contacted other agencies, including the NCAA, and our governing body, the NIAA here in Nevada, and we've kept everyone full apprised."
"I cannot comment on an on-going criminal investigation."
Teri White, Fernley high Associate Superintendent stated approximately the same statement.
Though he is not speaking about it now, at some point the Fernley high head coach will have to answer how the assembly and announcement could have continued, and for this event to expand in the matter it did, without any actual conversation or on campus interaction with college coaching staff. When asked, he could not sum up an answer, nor would he comment even on the overall situation.
Coach Hodges did state that during his time at Oregon, he did have the utmost respect for the Pac-10 coaching staffs at both Oregon and Cal. So this does seem like a very unlikely stunt by a coach that has never been someone to question in the past.
Of course, the immediate concern rests with Kevin Hart. This event is surely to have an effect on him and nationally, it might take some time for this affair to die down. Members of the Reno media recently contacted BearTerritory.net because shortly after Hart's press conference in Fernley, there were some significant holes in Hart's story and quotes to the press who were present for the announcement.
There are a number of scenarios, including Hart being the victim of a long-term, intense practical joke.
But at the same time, it also needs to be acknowledged that other schools – especially the University of California coaches, though cited in the reports by the articles in the RGJ, are irreproachable for this story. It appears that any school could have been named on the day of Hart's announcement – Stanford or Oregon for that matter – and while there are little to no facts yet to surface in this developing story, we do know that it is a tale to be sure.
"We have a young student-athlete and a program to protect," White said during our interview. "Our investigation has just begun. There's certainly no evidence that any school knew anything about this."
Due to the fact that the commitment story is bogus, we feel that many in the local Reno media who were somewhat hoodwinked during the announcement are now going to want some answers and that this story is likely to stay in focus. Additionally, it certainly appears that Fernley high has taken a "no comment" approach less than 48 hours after putting on a big media production.
National Signing Day is just a few days away, and though thousands of young players will sign letter of intent's with hundreds of schools across the country in numerous sports, it would be a shame if this story – a legend about a young man selecting a school that did not even recruit him, a head coach that was obviously not in the loop, and the fact that the local media completely bought this hook, line, and sinker – surfaced as the top story.
At BearTerritory.net, we feel it is important to inform the Cal fans about this situation, and for the focus to remain on what is obviously a very talented 2008 Golden Bear recruiting class.